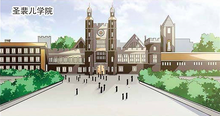 It was the Academy were Zhao Yan and Xi Yan departed after being injected with Mei Yue Yin at the age of 9. Nobles and high-classed student attended this school. The students were ranked by the achievements on the tests.
The Hunter's Guang Zhi Yi faction was stationed here.
The Academy was attacked and annihilated by the Sabbat.